Hi! This is my first book review on my webpage. Ieeh! Thanks for reading, hope you enjoy. Please leave a comment if you'd like to discuss things further with me!
Love XXX
The statistical probability of love at first sight
Writer: Jennifer E. Smith
Book type: novella
Published: Jan. 2nd, 2012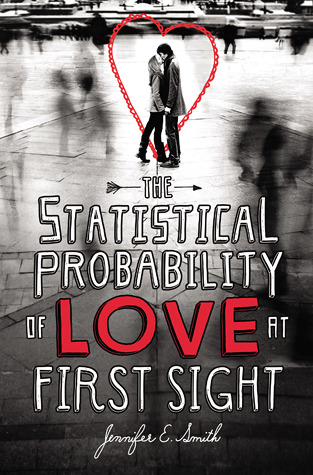 Goodreads summary: 
Four minutes changes everything. Hadley Sullivan 17 misses her flight at JFK airport, is late to her father's second wedding in London with never-met stepmother. Hadley meets the perfect boy. Oliver is British, sits in her row. A long night on the plane passes in a blink, but the two lose track in arrival chaos. Can fate bring them together again?

Interesting passage
Because that's what you do on planes. You share an armrest with someone for a few hours. You exchange stories about your life, an amusing anecdote or two, maybe even a joke. You comment on the weather and remark about the terrible food. You listen to him snore. And then you say good-bye.
Is it any good?
This was a light, cute and entertaining read. Perfect for summer! I read this at home, but I can imagine this book would be perfect during travelling or while relaxing at the pool. I can recommend you this book if you like cute but realistic love stories.
The main thing I enjoyed about this book was how I could relate to the story. I mustn't be the only one when I say I sometimes fantasize about meeting someone during travelling, on a plane or on a train, and sharing something more than a nod or a small talk with him. We pass all these people during our lives, all living approximately similar lives. What would it be like to meet someone at random, and something blooms out of it? Although I'm in a happy relationship, I sometimes fantasize about this during my travels. This book is a realistic elaboration of this fantasy. I really enjoyed reading about it!
Overall
This book was really cute and entertaining. 4 out of 5 stars!